Are you looking for way to get more involved with Shorashim? We offer tons of ways for you to share the gift of a free adventure to Israel!
PAY IT FORWARD
Get started by paying it forward & referring the people you know to travel on the trip of a lifetime. You can also download ShorashimFriends to do this easily off your phone. Refer your friends, family, neighbors, classmates, coworkers, & anyone else you know who hasn't gone on Birthright Israel to help them have the experience of a lifetime.
Download for App Store or Google Play with referral code: IWI2020
You can also get even more involved by becoming a recruiter &/or learning about a variety of initiatives & opportunities that we offer!
Get ready to give back, earn money or prizes, gain professional development, & spread your love of Israel by getting your friends & family to travel with Shorashim on Birthright Israel! 
BECOME A RECRUITER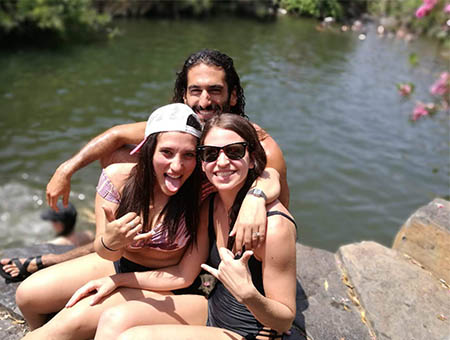 We're looking for friendly & passionate people to help spread the word about Shorashim through their networks on campus & in your communities! From your longtime camp friends & sorority sisters/fraternity brothers, to your friends from intramurals, spin class, & work, we want to help you reach out to your network so that they can experience the adventure of a lifetime with us!
Applicants should be committed, persistent, engaging, & motivated with a fun & enthusistic personality. Whether you're the most outgoing person in the room or work best behind the scenes, our team is here to work with you to help you be successful in this role. 
Marketing, recruitment, engagement, & past/current leadership experience is a plus. Through this role, you'll also gain beneficial personal & professional development!
Interested in joining the team? Sign up here & reach out to Lauren to get started.
Please note that in order to receive payment, you must recruit at least three people in any given season. 
ALREADY A RECRUITER?
You can log in here! Remember, tell the people YOU know to use your recruiter or unique link & to choose your name from the dropdown menu in the supplemental form linked in the welcome email.
Payment for recruitment of applicants who traveled for our summer trips will be received by September 1st & our winter trips by February 1st .
Check out the rules & regulations for our recruiting program.
CONNECT WITH US
If you are interested in the program, involved & have questions, or just want to check in, please reach out to Lauren at lauren@shorashim.org. We are so excited to work with you & thanks for everything!