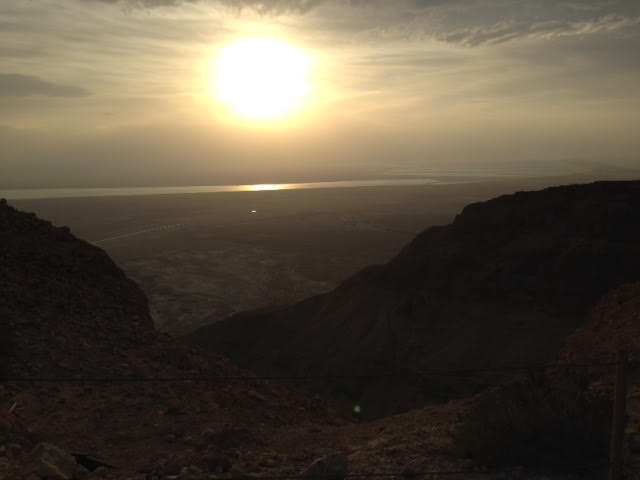 Today we ventured to the lowest point on earth: The Dead Sea. I dipped my toes in the water and then snuck away to enjoy the peace and quiet of open water and sun, but the rest of the group did it justice -- floating in the salty sea with bodies caked in mud. 
The afternoon came in stark contrast to the morning, when we left our hotel at 5am to trek to the top of Masada. Like our other hikes, the climb proved simple for some and very challenging for others (many, many steps), but I would argue that the best part was not the view -- albeit breathtaking -- but instead who we found up there. Along the edge of the mountain lie little shaded, rocky rooms, and while we huddled in one to hear the history of the Jews who defended their religion on this mountain, a young boy had his Bar Mitzvah next door. Here we were -- roughly 30 American young adults who came to Israel to reignite our connection to the religion -- standing adjacent to a family that had just welcomed their son as an adult member of a different family, the family of faith. 
Masada brought our group together today to witness the remains of defenders of the faith...though it seemed that they were already right next door.