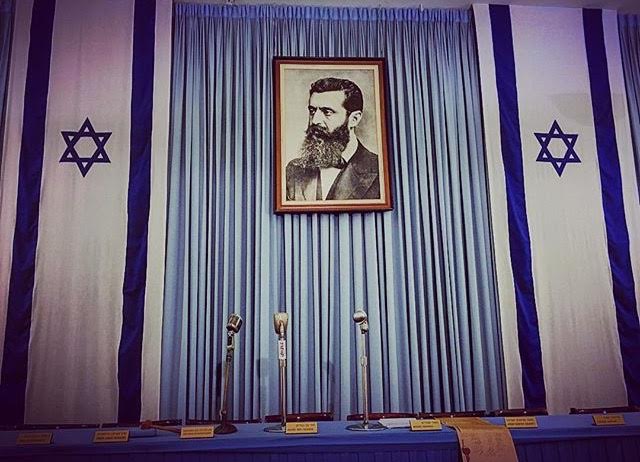 Independence and the President from Independence
Late this afternoon (after an extraordinary nap), we arrived in Tel Aviv at Israel's Independence Hall. 
Independence Hall is preserved in its original location in the Tel Aviv Art Museum. Before we learned about the immediate sequence of events that led to Israeli independence, we learned how integral the evolution of Tel Aviv was to the creation of the State of Israel.
While I was familiar with the story of Israeli independence, I didn't know how integral Tel Aviv was to Israel's creation. I was surprised to learn that such a bold vision of building the city as the "New York of the Middle East" began prior to independence. 
I'll be honest -- I was incredibly moved by the assessment, provided by our guide, of how President Harry Truman fought off the advice of his top advisors and recognized Israel on May 14, 1948. My grandfather held Truman in the highest regard for his actions; like the president, my grandfather was a haberdasher. It is often said that Truman was heavily influenced on the question of Israeli independence by his former Independence, Missouri business partner, who was Jewish.
We closed the ceremony by listening to David Ben Guiron's words at the Declaration ceremony. Our guide emphasized that the declaration established Israel as a home for the Jewish people, not as the "State of Israel." He emphasized that a home isn't necessarily where you live. I think I'm beginning to have a clearer understanding of how Israel fits in as the Homeland of the Jewish people. 
I know we all felt it as we closed by standing side by side with our Israeli brothers and sisters and sang the words to Hatikvah.